About

Me
Dr Jigar Shah ( MBBS , MS, MCH ) is a skillfull board certified (GMC , UPMC) cardiothoracic and vascular surgeon from Apollomedics Superspeciality Hospitals , Lucknow who performs a wide range of surgical procedures while expertly overseeing an operating room staff, having cutting edge surgical techniques, committed to exceptional patient care that includes careful monitoring during procedures and follow up care to achieve the best possible outcome for each and every patient.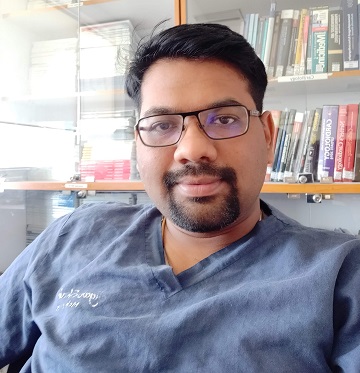 HIGHLIGHTS :
Updated knowledge of cardiac and thoracic surgery techniques
Excellent fine motor skills
Proven crisis management abilities
Ability to identify complications during procedures and rectify them immediately
Remarkable ability to quickly apply reasoning skills
Ability to quickly respond to medical and surgical emergencies
Effective communication skills with good bedside manner
High ethical standards
Educational qualification:
1. MAGISTER CHIRURGIAE (M.Ch.) (September 2016 to August 2019)
Cardiothoracic and vascular surgery ( CTVS)
U.N.Mehta Institute of Cardiology and Research Center, B J Medical College, Gujarat University, Ahmedabad , Gujarat
2. MASTER OF SURGERY (M.S.) (August 2013 to August 2016)
General Surgery
Medical College Baroda , Maharaja Sayajirao University, Baroda , Gujarat
3. BACHELOR OF MEDICINE AND BACHELOR OF SURGERY (M.B.B.S) - July 2006 to Feb 2011
Medical College Baroda , Maharaja Sayajirao University, Baroda , Gujarat
(Four and half years of medical school in India plus one year compulsory clinical rotations).
ACHIEVEMENTS:
University 1st rank/Gold Medal

M Ch Cardiothoracic and Vascular Surgery

Gujarat University, Ahmedabad, India

University 2nd rank

MS General Surgery

Maharaja Sayajirao University, Baroda, India

University top 20

MBBS

Maharaja Sayajirao University, Baroda, India

State Topper (3rd Rank)

H.S.C. exam (12th Standard – March -2006)

Gujarat Board, India

State Topper

S.S.C. exam (10th Standard – March -2004)

Gujarat Board, India
CLINICAL EXPERICENCE:
Approximately seven years in surgery, of which four years in cardiothoracic and vascular surgery
Peformed 520 major cardiac surgeries (including CABG and Valves) , 65 thoracic surgeries , 350 vacular surgeries independently
Assisted more than 3000 surgeries

RESEARCH:
Predictors and outcome of Prosthetic Valve Thrombosis as thesis for the degree of M.Ch. C.T.V.S.
Conversion rate of laparoscopic to open cholecystectomy- A prospective study as thesis for the postgraduate degree M.S. General Surgery

PUBLICATIONS (ORIGINAL ARTICLES ) :
Direct Femoral Cannulation in Minimal Invasive Pediatric Cardiac Surgery: Our Experience with Midterm Result
Surgical overview of Cardiac echinococcosis – A rare entity
Preoperative coronary screening in rheumatic valvular surgery: is age just number?
Post-Operative Deep Sternal Wound Infections In Patients Undergoing Coronary Artery Bypass Surgery.
Clinical and angiographic outcome of coronary artery bypass surgery with and without cardiopulmonary bypass: a prospective observational study'
Mitral valve thrombectomy: a novel and safe approach for stuck mitral valve
Delayed Total correction in Tetrology of Fallot: Institutional Experience
INTERNATIONAL PRESENTATIONS :
ORAL PRESENTATION
CREF 2019 SAN DIEGO, USA " Mitral valve thrombectomy : a Novel and safe approach for stuck mitral valve'
MEMBERSHIPS OF ASSOCIATIONS:
Association of Surgeons of India.
Indian association of cardiothoracic surgeons. ( IACTS) [ L20175103 ]
Association of Thoracic and Cardiovascular surgeons of Asia ( ATCSA) [S-190191-IN]
INNOVATIONS :
Small size Dental Mirror to look for pannus or thrombus for Redo Mitral Valve cases
Device for internal cardiac massage – in making (applied for patent )
INR management application
Young CVTS forum for CVTS residents